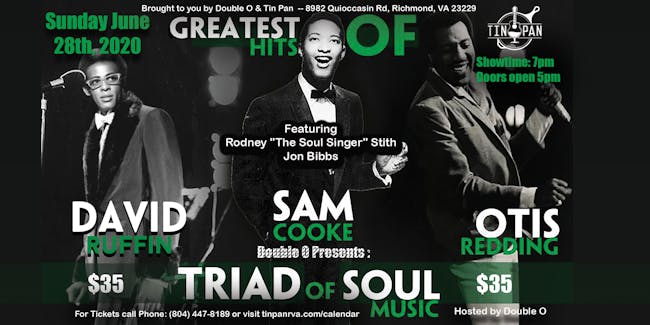 Triads of Soul (feat. Rodney "The Soul Singer" Stith & Jon Bibbs
Triad of Soul (feat. Rodney "The Soul Singer" Stith & Jon Bibbs appearing at The Tin Pan in Richmond, VA
Seating: We assign seats in order of when you purchase your tickets. All reservations are subject to a food and drink minimum of $13 per guest. We reserve the right to seat parties together at the same table in the event of a busy show.
Box Office: The Tin Pan charges lower fees for box office versus online sales. Our box office is open Mon-Sat 12PM-5PM. Please visit us during those hours or call 804-447-8189.
Rodney "The Soul Singer" Stith
When you think about music, the sound and how it makes you feel, you also think about the time and place,and how that song was created or what made that artist write or sing it. Well, Rodney The Soul Singer is that artist. His powerful urban retro soul sound brings a unique style and blend, when performance's brings back the soulful sound of the old rhythm and blues. Born and raised in Petersburg, Va with such major recording artist such as Trey Songz and Tyra B. music was the only form of pleasure. Rodney's affinity for music dates back to his early experience singing in the choir of his down home Baptist roots. His grandfather introduced him to the piano and uncle taught him the guitar while playing in local gospel groups.
Rodney's vocals delivery comes across with a smooth edge, mellow on the mind, yet powers enough to stir new emotions with each note. The Soul Singer is one third member of the hip hop soul music group called '' Soul Logistics Radio '' along with Doug Evans & J.D Haze they represent a do-it-yourself attitude that can bring people together thru music. They also have a independent radio show on the 91.3 WVST FM called '' The Soul Logistics Radio Show '' which gives '' Inspiration plus Information '' it's conscious hip hop & soul music with a sense of humor. With 3 albums already under their belts, Rodney is now planning for a new millennium, that includes the release of his solo project '' The Soul Survivor '' to drop early fall 2014. His versatility allows him freedom to perform in various styles that extend to a more diverse group and audiences of all spectators that love this thing we call music.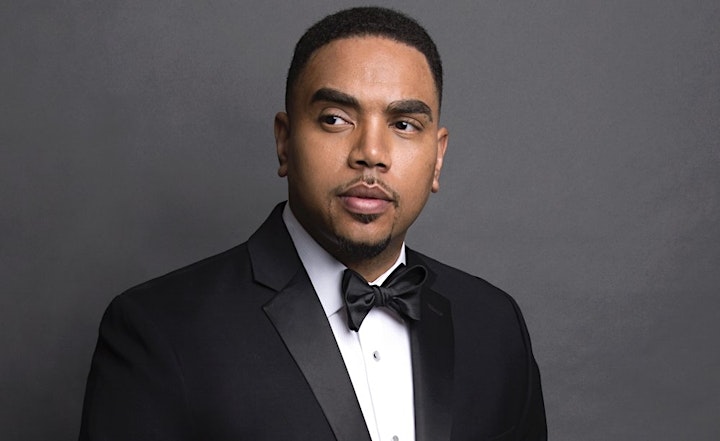 What is the measure of a man? How does one define it in the case of Richmond, Virginia multi-talented Jon Bibbs? Is it through his upbringing? What of one who was chosen during his toddler years to tenaciously grow into a consummate singer-songwriter, multi-instrumentalist, educator, family man, and community leader as Bibbs has? Reared by educated, religiously devout parents who loved him enough to adopt him and pray for his talent right from the start, Bibbs experienced early grace. To be carried and molded by good stock who had the discernment to follow ordered steps to the esteemed door of music teacher Susan Trotter at Virginia Commonwealth University who took a curiously patient three-year old Bibbs under her tutelage, training the prodigy under the Suzuki method before he'd fully even learned how to write his own name.

Maybe one measures the man by the discipline of a boy who practiced his Gladwell hours from VCU and Sixth Baptist Church right to the major stages of Richmond, sharing the spotlight with everyone from the Richmond Philharmonic to gospel superstars like The Winans before he'd even entered high school? Maybe it's by the humility of one who'd played with marquee talent, but who still understood there was more to be learned by playing in his school choirs and bands, openly soaking in the lessons in tuba, trumpet, trombone, upright bass, French Horn, and, of course, piano from peers and elders alike right to the Historically Black institution, Hampton University, on a trombone scholarship. There the Hampton Man was further refined into the focused and dignified man of Southern gentility, measured strength, and quiet masculinity that displayed itself not through bravado and untilled hope, but through its talent, intellect, and works.

What is the measure of an artist? And, how does one measure the art of Jon Bibbs? Is it through influences as varied as saxophonist Lester Young, opera singer Maria Callas, and funky multi-instrumentalist native son Michael "D'Angelo" Archer for music touched by everything from gospel quartet to the classical? Is it through the telling generosity of a man whose first album, True Story in 2001, was not even for himself, but for the engineering studies of a producer friend? Maybe one assesses an artist through the sheer volume of quality output with five well-received projects released over the last fourteen years, including Red in 2003, the critically acclaimed breakthrough album that is the internationally beloved Unbreakable in 2005, the adventurous and deeply personal heartbreak of the iTunes and Amazon charting Ode to Old Flames in 2012 (peak: #11 & #14 R&B, respectively), the traditionalism of American Songbook standards through the minimalist Jazz Variations Live from New York in 2013. Maybe its how a self-described torchbearer honors the past of the Black American Music tradition as the stylistic Bibbs did with sell-out, one-man Iconic Men of Soul tribute shows to Ray Charles, Sam Cooke, and Marvin Gaye? Perhaps its by the creatives who've shared studios or stages with Bibbs that honor his name with their tongues, stars like Ledisi, Roy Ayers, Chuck Brown, Snoop Dogg, John Legend, Wiz Khalifa, Jennifer Hudson, Melanie Fiona, Maimouna Youssef, Alison Carney, among others. Awards? How about SoulTracks Male Vocalist of the Year nominee in 2012? Stages? Bibbs has done everything from S.O.B.s in NYC to the Howard Theater in DC. Does one measure an artist by his creative and technical abilities as a quadruple threat: writer, producer, composer, and multi-instrumental musician who has innovative songs bridging country and soul like his letter to an old love, "Nobody Loves You More," or a long proven ability to marry jazz and soul as with his new collaboration with Dwele on "Love In Waiting?" Maybe its through his willingness to be vulnerable in an effort to take people on a journey through the continuum of Black American music as he did on his go-for-broke performance of Nina Simone's, "I Put A Spell On You," from Ode to Old Flames. By any of those measures, Bibbs is as accomplished an artist, as he is enviable a talent.

What is the measure of a leader? More than an A-list peer of Black Independent Soul Music Movement vets like Bilal, Eric Roberson, Anthony David, and Conya Doss, Jon Bibbs is a well-respected educator and senior administrator. Just a few years after college, Bibbs was committed to take over for his mother and Richmond Prep founding principal, Dr. Mary Gordon West. In the years since, the determined change agent and his team has doubled both the enrollment and the physical space of the 32-year-old, Christian-based elementary academy, located in Virginia's prestigious Richmond Museum District. The results-oriented Bibbs and Richmond Prep are also expanding from elementary school grades to include middle school, reaching multiply challenged minority youth right at the decisive age that often determines the trajectory of the rest of their lives. With a curriculum rich in ethnic pride, arts and culture, Christian principles, and academic rigor, Bibbs and his team are looking to step into that gap to substantively contribute to the restoration of the Black family, Black Arts, and the Black community in Richmond, VA as a whole. In doing so, Jon Bibbs is situated in a long tradition of the artist as advocate, educator, and voice for the marginalized in the storied legacies of such human rights leaders as Harry Belafonte, Fela Kuti, Stevie Wonder, and Nina Simone.

So, how does one measure a man, an artist, a leader, and human being like Jon Bibbs? According to the Christian principles and Black American philosophies by which Bibbs has cultivated his many talents and callings, he believes by his fruits you will know him. Just watch and see what fruits Jon Bibbs bears.

Venue Information:
The Tin Pan
8982 Quioccasin Road
Richmond, VA, 23229