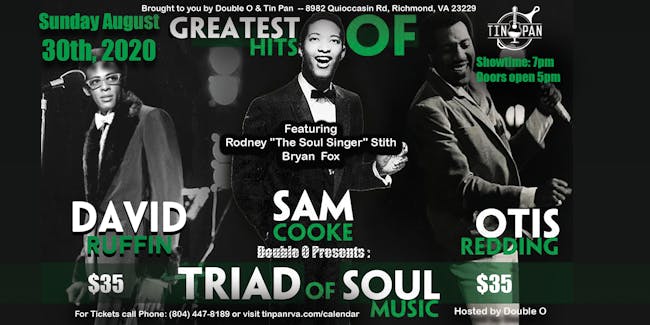 Triads of Soul (feat. Rodney "The Soul Singer" Stith & Bryan Fox
Triad of Soul (feat. Rodney "The Soul Singer" Stith & Bryan Fox) appearing at The Tin Pan in Richmond, VA
Seating: We assign seats in order of when you purchase your tickets. All reservations are subject to a food and drink minimum of $13 per guest. Due to COVID-19 government mandates, we will not be seating separate parties together unless those parties agree to be seated together. All parties will be socially distanced per regulations. We have also reduced our capacity 50% to allow for social distancing.
Box Office: Our box office is currently closed due to COVID-19, but we are still checking and returning phone calls. If you have questions regarding this or another show, call us at 804-447-8189 and leave a message. One of us will return your call as soon as possible.
Rodney "The Soul Singer" Stith
When you think about music, the sound and how it makes you feel, you also think about the time and place,and how that song was created or what made that artist write or sing it. Well, Rodney The Soul Singer is that artist. His powerful urban retro soul sound brings a unique style and blend, when performance's brings back the soulful sound of the old rhythm and blues. Born and raised in Petersburg, Va with such major recording artist such as Trey Songz and Tyra B. music was the only form of pleasure. Rodney's affinity for music dates back to his early experience singing in the choir of his down home Baptist roots. His grandfather introduced him to the piano and uncle taught him the guitar while playing in local gospel groups.
Rodney's vocals delivery comes across with a smooth edge, mellow on the mind, yet powers enough to stir new emotions with each note. The Soul Singer is one third member of the hip hop soul music group called '' Soul Logistics Radio '' along with Doug Evans & J.D Haze they represent a do-it-yourself attitude that can bring people together thru music. They also have a independent radio show on the 91.3 WVST FM called '' The Soul Logistics Radio Show '' which gives '' Inspiration plus Information '' it's conscious hip hop & soul music with a sense of humor. With 3 albums already under their belts, Rodney is now planning for a new millennium, that includes the release of his solo project '' The Soul Survivor '' to drop early fall 2014. His versatility allows him freedom to perform in various styles that extend to a more diverse group and audiences of all spectators that love this thing we call music.
Bryan Fox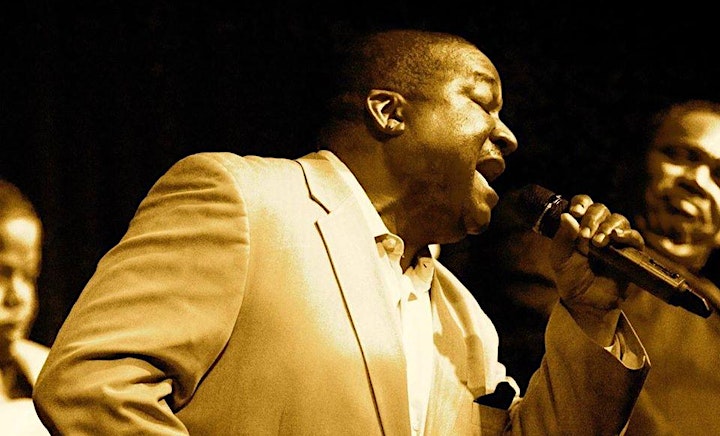 One of the busiest performers in the DMV, Bryan Fox performs as lead vocalist in a number of ensembles that travel around the region, the country and the world to include his own Bryan Fox and Friends.

Best known for his renditions of songs from Sam Cooke and other great artist of the past, his "scrawl" captures audiences every time. bass, When not singing or playing the also for his bass, Fox has been known to play guitar, drums and keyboard on occasion.

Fox's resume spans over 30 years and has performed with such artists as Five Blind Boys and Stevie Wonder.

Bryan Carter Fox, a lover of great sound and music.

Venue Information:
The Tin Pan
8982 Quioccasin Road
Richmond, VA, 23229