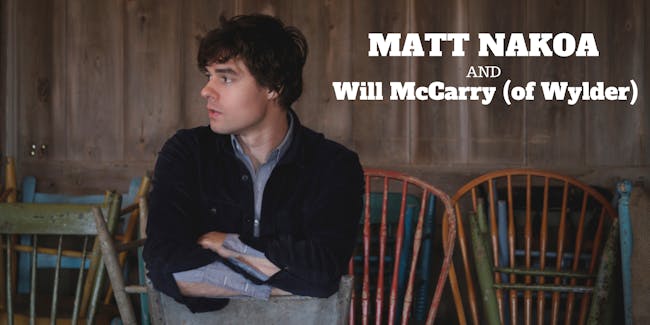 Matt Nakoa
Will McCarry (of Wylder)
Matt Nakow & Will McCarry ( of Wylder) appearing at The Tin Pan in Richmond, VA
Seating: We assign seats in order of when you purchase your tickets. All reservations are subject to a food and drink minimum of $13 per guest. We reserve the right to seat parties together at the same table in the event of a busy show.
Box Office: The Tin Pan charges lower fees for box office versus online sales. Our box office is open Mon-Sat 12PM-5PM. Please visit us during those hours or call 804-447-8189.
Matt Nakoa is an award-winning songwriter, singer, and multi-instrumentalist. A modern troubadour, he makes his home on the highways and concert stages of America and appears regularly with folk music icon Tom Rush. The Boston Globe says of Nakoa, "Between his piano chops and heartfelt originals on guitar, he drops jaws."
Born on a small goat farm in New York State, Nakoa trained to be a concert pianist before accepting scholarship to Berklee College of Music as a vocalist. He developed his dramatic songwriting style with his college art-rock band, The Fens, and when the band dissolved, he landed in NYC. It was in Manhattan's all-night piano bars that Matt developed an uncanny ability to command the attention of any audience.
2012 and 2014 saw the release of his first solo albums, garnering multiple songwriting awards, including a win at Kerrville Folk Festival's new folk competition. Nakoa's newest album, Casting Shadows, is a spellbinding blend of pop, soul, and classical influences and tells a story of childhood dreams crashing headlong into a grownup reality. The Ark of Music magazine proclaims, "What we have here is a truly encouraging sign of what pop could once again become
Wylder is an indie-folk quartet from the heart of Virginia. Drawing on a season of personal doubt and loss, Wylder's long-awaited sophomore release, Golden Age Thinking (available July 12, 2019) is an expansive and dynamic collection of rhythmic, haunting, and lyrically-driven indie-folk that examines the powerful influence of nostalgia as a form of denial. The album follows on the heels of 2016 release, Rain and Laura—a sprawling and eclectic record that evoked alternative rock giants like Arcade Fire and Weezer as well as the intimate, harmony-laden sounds of Fleet Foxes and Sufjan Stevens. With the release of Rain and Laura, Wylder caught the attention of Train's Pat Monahan. He premiered two singles "Bitter" and "Save a Way" on his Sirius XM program Train Tracks, kicking off a successful run on AAA stations around the country. Wylder reached an even larger audience in 2019 when the track "At the End pt. 1" was featured during a key moment on the hit ABC series The Good Doctor.

Venue Information:
The Tin Pan
8982 Quioccasin Road
Richmond, VA, 23229