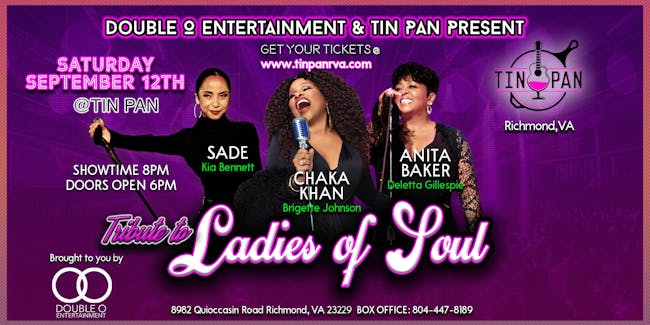 feat. Kia Bennett, Brigette Johnson, Deletta Gillespie
Ladies of Soul
Kia Bennett, Brigette Johnson, Deletta Gillespie
Ladies of Soul appearing at The Tin Pan in Richmond, VA
Seating: We assign seats in order of when you purchase your tickets. All reservations are subject to a food and drink minimum of $13 per guest. We reserve the right to seat parties together at the same table in the event of a busy show.
Box Office: The Tin Pan charges lower fees for box office versus online sales. Our box office is open Mon-Sat 12PM-5PM. Please visit us during those hours or call 804-447-8189.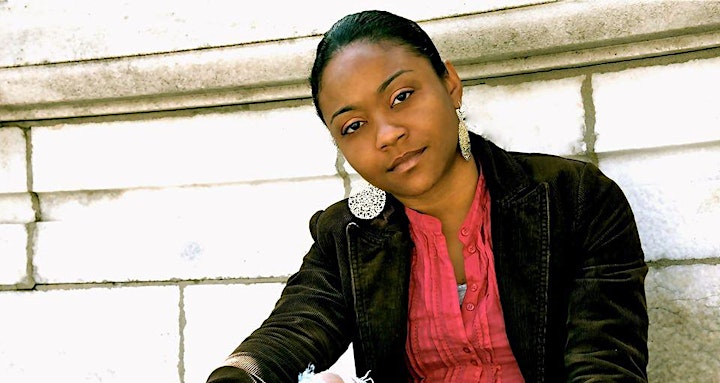 A native of Richmond, Virginia and a product of Howard University, Kia made her introduction into the entertainment while singing with former Washington D.C. group "Entyme" along with other respected soul artists Geno Young, Sy Smith, and Yahzarah. Kia's vocal tone is an enchanting combination of warm, cozy, fluid, colorful, soulful, melodies with warm grooves. Kia is one of the lead vocalists in the currently revamped Roy Ayers protégé band (RAMP); an American Soul/Jazz band of the 70's whose music works have been sampled/performed by hip hop and R&B notables such as Erykah Badu, Mary J. Blige, Common, Pharrell, and A Tribe Called Quest. Ms. Bennett is best noted for her background vocals which supported international recording artists D'Angelo, Ledisi, Michael Bolton, and others. She is also half of singing duo, Kia Bennett & Desiree Jordan as KiDe'. www.kidemusic.com
Kia was nominated as 2012 Best New Artist and 2017 Song of The Year (A Beautiful Forever) for SoulTracks Readers Choice Awards. Kia has also served as a Board Member and Governor of The Washington D.C. Chapter of the Recording Academy (Grammys). She is also a member of WALA (Washington Area Lawyers For The Arts). She currently has an EP entitled, Duet of Daffodils and is currently working on her full-length album.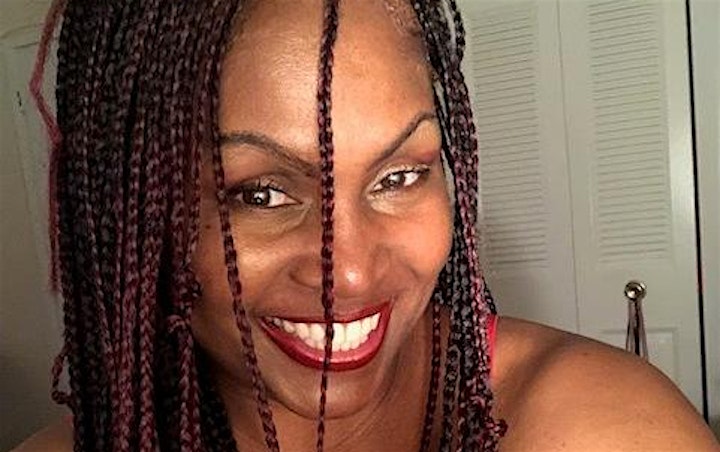 Born in Washington D.C.,Brigette grew up as a late bloomer in a family of singers, starting her singing career in 2003. She has performed with several various local jazz/r&b groups, and have performed at various prominent venues in the D.C. metropolitan area, singing background for a number of national recording artists, and currently, performing with a DC based Music production company, where she participates in "A Tribute to the Music of Motown" productions in various venues in and around the DC area. Her musical influences are that of Chaka Khan, Teena Marie, and Natalie Cole.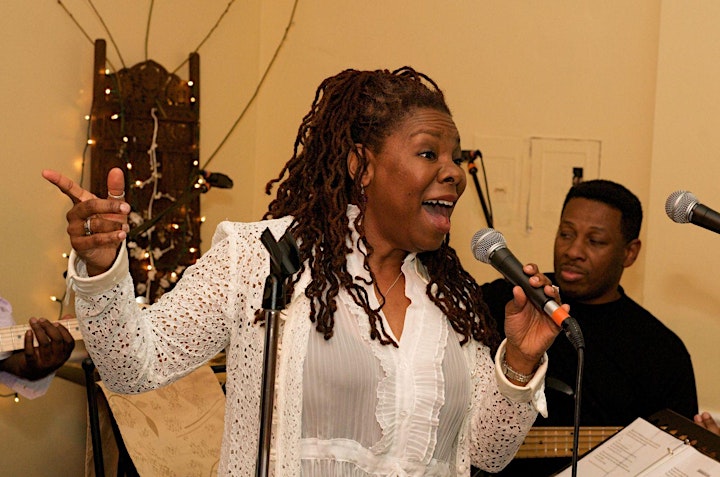 In a mere ninety minutes, you'll have day tripped through a musical landscape so vast you'd swear you had been to no fewer than five continents. And on the ride back home, you'll be singing and feeling as though you haven't a care in the world. Reflecting on the trip, you'll realize that inside every song and story was a gift - a little message that lifted you into your sunshiny happy place.

You've just experienced a Deletta Gillespie show.

A native of Tulsa, Oklahoma now living in Baltimore, MD Gillespie is a multidisciplinary performing and teaching artist and has been performing on stage her entire life. Both parents were musicians in bands that backed some of the musical icons of the '50's and '60s such as The Ink Spots and The Shirelles. Deletta made her stage debut in Kansas City at the age of five in her mother's nightclub act.

Her musical highlights include opening for acts such as New York Voices, Hiram Bullock and Lalah Hathaway, Al Jarreau, and for British music legends Paul Carrack and Judi Tzuke. She's also performed for the late Michael Jackson. Deletta has worked all over the US, and in Canada and Bermuda. Along the way, she fronted an award winning showband in Atlantic City and on the Nevada Casino circuit. Deletta has also sung alongside Broadway performers like Michael James Leslie, Carolee Carmello, and Sharon Wilkins. Gillespie originated the role of Chloe in 7:32, an original musical and national runner up in the 2009 Kennedy Center American College Theatre Festival. She also spent a year at sea singing onboard Royal Caribbean Cruise Lines.

The uber talented Gillespie is also a published writer, playwright, and actor. Her solo show, 'Panties UP, Dress DOWN: Things My Mama Used to Say' has been performed throughout the Baltimore/Washington DC corridor. She also played the role of Katherine Johnson in the Baltimore rock Opera Society's 'The Determination of Azimuth'. It is the same story as the in the movie "Hidden Figures", although "Azimuth" premiered twenty months earlier than the film.

Triumph(ant), Gillespie's debut CD was recorded before a live audience. Released in 2013, TRIUMPH(ant) has landed over a dozen times on the Indie-Music-Network's weekly podcast. The album has been described as an eclectic collection of multi-genre songs with uplifting themes. The cd continues to be played all over the world on internet radio. Her next collection of songs is expected to drop in the fall of 2017.

Gillespie performs regularly in the DMV with several bands including The Clockwork Band, Arkitekture, Daryl Davis and Friends, as well as with her own group Deletta & Company. She uses her talents to not only entertain, but to create awareness about causes close to her heart. She has toured as a sound healing artist with the Monument Quilt, a traveling art display that provides a public healing space for survivors of sexual and domestic violence. She also performs in ICU's and at nursing homes and assisted living facilities as a therapeutic musician (vocalist).

She is an adjunct professor and teaches performance and performance theory courses, as well as history.

Venue Information:
The Tin Pan
8982 Quioccasin Road
Richmond, VA, 23229