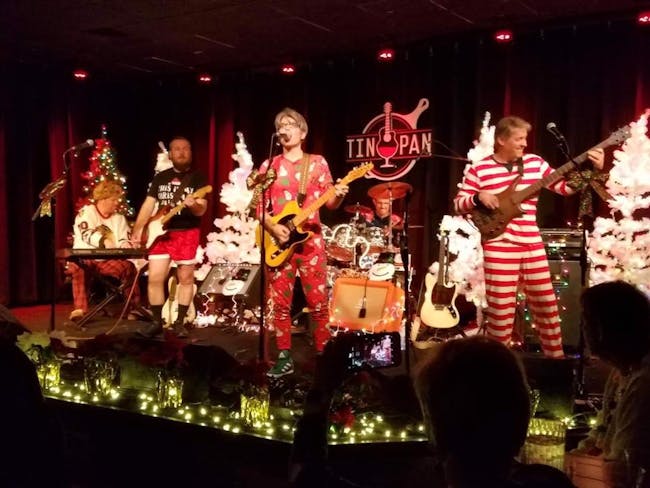 w/ guests Paulo Franco & The Freightliners
Flashlight Tag
Paulo Franco
Flashlight Tag | Paulo Franco & the Freightliners appearing at The Tin Pan in Richmond, VA
Seating: We assign seats in order of when you purchase your tickets. All reservations are subject to a food and drink minimum of $13 per guest. We reserve the right to seat parties together at the same table in the event of a busy show.
Box Office: The Tin Pan charges lower fees for box office versus online sales. Our box office is open Mon-Sat 12PM-5PM. Please visit us during those hours or call 804-447-8189.
Come celebrate the holidays with Flashlight Tag and its band of misfit toys. Rudolph hosts a Rock N Roll Revue featuring holiday music favorites and originals performed by Flashlight Tag with special guests Samson Trinh, Arthur Grant, BJ Kocen, Don Busick, Roger Reynolds, and more. Paulo Franco & The Freightliners kick off the evening with their signature sound of Americana with Latin American flair. The joyful noise known as Flashlight Tag immediately follows with Yukon Cornelius and Hermey (the dentist elf) at the helm. If that's not enough, there will be plenty of shenanigans, outfits, and wholesome family mayhem (the best type of mayhem). Also, the performers are donating their portion of the door proceeds to CJ's Thumb Foundation, a nonprofit organization providing assistance to families of children with chronic life threatening illnesses (https://www.cjstuf.org). See you at the Revue!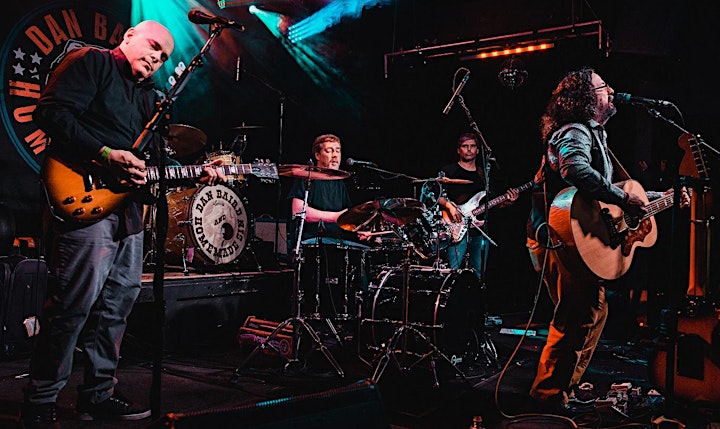 Paulo Franco is a Richmond, Virginia based singer/ songwriter. His songs are steeped in storytelling, often drawing from his own life and those around him. The sound is a seamless blend of the myriad of influences that have shaped both his everyday life and his musical tastes. Listeners will find glimpses of John Prine's wit, The Stones' rock n roll heart, and the fluidity of The Grateful Dead often times infused with the rhythms of traditional Latin and Colombian music, the country where his family is from. He has recently included original Spanish songs into his songwriting as well, bringing a depth and a love of two cultures seldom seen during the same show or album. Paulo switches his voice from country twang, to rock anthem, to Spanish troubadour. His vocals are so authentically Spanish that it's easy to forget you just heard him effortlessly sing a country tune in English.

In the last few years, he has shared the stage with the likes of The Eli Young Band, Rhett Miller (Old 97s), Dan Baird of the Georgia Satellites, Walter Salas Humara (Silos), Chris Knight, Adam Carroll, Cris Jacobs, Cory Branan, Austin Lucas and many others. In 2016, Franco released The Last Card, an album Paste Magazine hails as possibly the most sincere album of the year. No Depression's Emily Hinde called The Last Card "a phenomenal sophomore record." She listed the record No. 2 on her list of the best of 2016, which also included releases from The Avett Brothers, Sara Watkins, Drive By Truckers, Sturgill Simpson and more. Paulo ended 2016 with a tour of Colombia, South America.

Drawing their name from the legendary song by Townes Van Zandt, the Freightliners are Paulo's backing band. They are Jimmy Slagle - Lead Guitar and Vocals, Dave Hess - Drums and Vocals, Doug Thompson – Bass. They bring intensity to each performance, utilizing blistering guitar solos and crisp vocal harmonies. They provide the accompaniment and groove to Paulo's original music, bringing a fresh and unique interpretation to the songs you hear on the albums. The band floats easily between the differing genres that weave together to form the tapestry of Paulo's sound. The Freightliners are a band that find themselves at home as a country, rock, alt+country or blues outfit.

Venue Information:
The Tin Pan
8982 Quioccasin Road
Richmond, VA, 23229